On October 13, 2013 –  Without much fanfare a group of neighbors sponsored a fairly unusual event – the Burlingame Men's Only – Progressive Garage Tour. (BMO – PGT)
That Sunday more than 30 men got together to tour four uniquely purposed garages. The plan was simply to hear a small presentation about each building, its architecture, and unique features. But more importantly, we were there to hear about the interests of the owner and the functions of the garage. Oh yeah, and to drink some cold beverages and talk. 
The first stop on our BMO-PGT  – The garage of Vance Walker and Russell Martinelli.
Nearly 30 years ago, Vance, a former Navy pilot, successfully carried his love for flying to a whole new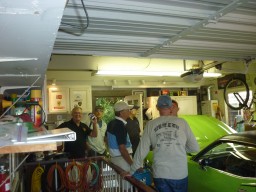 level. He became and still is commercial pilot for Delta airlines. Vance proudly proclaims his love for flying jets, driving fast cars and enjoying fine wine. His garage certainly reflects those passions.
Upon entering Vance's Garage, we were met by an award winning Muscle Car, several wall mounted photos of assorted military aircraft and an unexpected surprise; a hand dug, WWII – Soviet Era – BOMB SHELTER.
The photos were of Vance in his fight gear with various Navy jets. They generated lots of discussion about missions, strengths, speed and firepower. Some of the fighters pictured included the F4 Phantom flown by Vietnam Ace LCDR Randy "Duke" Cunningham, the TA-4 Skyhawk and the S3 Viking, both of which were piloted by Vance.
We couldn't help but focus our attention on Vance's beautiful 100% original 1970 lime green, Plymouth Barracuda, appropriately named, "Limelight". This car shows exactly as it did when it rolled off the showroom floor in 1970. Every single part of it is original right down to the dual iconic hood air vents and the 275 hp, 340 cubic inch engine with the stock 4-­‐barrel. Vance's 'Cuda won, the, "Favorite Car" award from Ms. Vintage at the North Park Car Show in September, 2013.
The most exciting, buzz-creating feature of Vance's garage sat quietly off to the left side of the room. It was an inviting mystery stairway cut through the garage floor. As we carefully navigated our way through the opening, we were quickly gobbled up by cobble-stone walls. A sudden left turn revealed an open space which ran easterly nearly 3⁄4 the length of the house.
This 74 year-old excavation was originally designed to be the family's area of safety in the event of war. It was originally a Bomb Shelter, but Vance assured us the unmistakable murmur shared by everyone present did not fall on deaf ears…plans are set to convert the space to a fabulous 800 – 900 bottle wine cellar…someday!
The second stop – 
The garage of an engineer/craftsman/builder/competitor Steve Ball.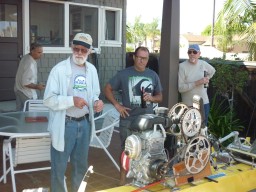 Many know the Steve & Betty Ball home as a stately and beautifully finished Airplane Bungalow. Others remember it as the community's Halloween Haunted House. Through decades, neighborhood children have been frightened and haunted at their Haunted House. But few neighbors have seen Steve's garage. And even fewer know of the 'amazing one-of-a-kind mechanical vehicles' that have been created there.
In this garage, Steve has envisioned, designed, engineered and then built a National Record Setting – Speed Boat; a National Champion – Human Powered Cycle and two 3 wheeled Morgan cycle cars. And on display this day, was his current project. A human-powered, hydrofoil kayak.
His record setting Speed Boat called the Dragon Fly set the National Speed Record for this class of boat in 1975 on a lake in Waterford, CA. That boat with a description of the feat and an introduction to Steve Ball is all on display at the San Diego – Hall of Champions in Balboa Park.
Later he designed and built a 'human-powered tricycle which won the United States Human Powered Speed Championships in 1984 in Indianapolis, IN. Riding this cycle was internationally known competitive cyclist Richard Bryne. Mr. Bryne is now known as an entrepreneur and designer of the Speedplay Bicycle Pedal. Today this pedal is used by approximately 1/5th of the riders in the Tour de France. Coincidently, the prototype for this bicycle pedal, was first machined in Steve's garage in 1990.
His classic blue Morgan is frequently seen cruising the streets of Burlingame, usually on its way to a classic car rally, parade or tour. It features many hand-made parts. Because of its age many parts are simply no longer available.
Finally, his hydrofoil kayak is under constant refinement in hopes of setting a speed record for human powered boats.
This garage itself was built in 1912 and is a 2 car original structure. It is packed with materials and tools. One attendee commented that he felt this garage had every tool and every tinkering item known to any craftsman.
The third stop – One of the newest garages in our community – the home itself, owned by Art & Lori Bowen was built in April 1912.
It was the 2nd home built in Burlingame and it was one of our community's recently toured, 'Century Homes.' Originally the home boasted a single car garage, but by 2003 that structure was well beyond its' last leg and unable to support its' own weight. Art, a classic car enthusiast and self taught woodworking craftsman set out to rebuild it. He designed a beautiful, state of the art 2 car garage that mirrors the original design of his Mission Revival home in very complimentary ways. The finished product is a multi-purposed garage/woodworking shop/showroom. This vintage styled garage tastefully decorated with beautifully restored 1950's gas pump, a 26 inch neon lighted 1950's sock-hop styled clock and several wall mounted reminders of a by gone era. He surprisingly downplays his neatly organized monster-sized area above the ceiling that made many of our storage-challenged mouths water.
The 1½ story storage cabinet filled structure provides spacious parking for 1 car allowing for a plethora of woodworking tools and machinery including a full-sized 5 HP table saw and 2 inch thick 7 foot maple workbench with High School woodshop styled bench vises on either end. The floor covering is industrial grade, inter-locking 12 inch black & white tiles. Art installed a dual lighting system…bright fluorescent lighting suitable for a workshop of this size and low-wattage soft yellow LED lighting that he likes to call 'mood lighting' for when he opens the garage for his annual Burlingame – Happy Hour.
Lots of discussion centered on his insatiable love of cars and his ever-changing car collection. Besides his two BMW M-5's and a gorgeous Mercedes S550…his favorite car was the car that inspired him to rebuild and style this garage the way he has – a showroom level, restored with red/white interior, 1960 Cadillac convertible. Besides participating in countless parades, his Cadillac was featured in a 2002 USA – Network movie and he got to drive it in an opening sequence of season 12 mega hit show, "The Amazing Race."
A beautiful 2014 Porsche 911 Carrera 4S Cabriolet now calls Art's garage home.
Our last stop in our BMO-PGT – The garage of Jerry Doran
When Jerry and Kelly moved in 15 years ago, they were overrun with countless boxes of personal items…stuff he wasn't emotionally ready to part with. At that point, he resigned himself to accept the fact his modest one-car garage was never going to amount to anything more than an industrial size storage closet.
Four years later, Jerry decided he was in need of a Man-Cave. He moved over 100 boxes into his attic. He mounted a handsome set of garage cabinets and put in a man-cave necessity…a refrigerator. There was still something missing though…a pool table! He found one in the classifieds under "Pool Table, new baby coming, must sell". Before long, the unmistakable sounds of aggressive high-fives and boisterous good-natured ribbing of inexperienced pool players was a common sound in Jerry's garage.
In the corner sits a fifty-year-old, 3 foot long, turn of the century, full-rigged Wind Jammer replica. Jerry's multi-talented uncle constructed that triple mast ship by hand. Six years ago, Jerry's younger brother shipped it to Jerry from New York. When Jerry opened the large box, the top 12 inches of all 3 masts we snapped off and hanging by the sail riggings. When Jerry called his brother to start a damage claim, his brother replied, "Oh yeah, about that, I broke off the tops to get it to fit in the box…I figured you'd be able to figure out how to fix it."
Jerry recalls finding several dozen brittle pieces of 60 to 80-year-old newspaper clippings in his attic. He placed them in a pizza box so he and his daughter could at some point reassemble them. Fifteen years later, that pizza box remains on his "to do" list…totally unmolested.
His last attempt to include his oldest daughter in his Man-Cave was when he bought "her" a drum set…that only he gets to play. I'll bet that beautiful 40 piece ratchet socket set in his cabinet was a Valentines day gift for his wife too…hmmmmm!!!
Amazing tour!!
(Article written by A Bowen, S Ball, V Walker, E Smith)